Fairfield Flowers , Virginia Beach, VA - Customer Flower Reviews
Like us on Facebook.
Total reviews: 7 reviews | Star Rating: 5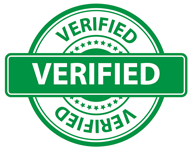 Real Customers, Real Reviews
All reviews are from verified Fairfield Flowers customers. Our verified reviews require a validated order number, purchase date, and email address. They are collected, certified, and monitored by an independent, dedicated review company, See What You Send, Inc., that does not allow reviews to be filtered or deleted, unless requested directly by the customer.
Mar 16, 2018
Such a beautiful arrangement for my friends housewarming gift. So excited for her to receive these beautiful flowers. Shot out to Charlene for helping me pick this gorgeous vase!
Mar 16, 2018
This is really cool! I love seeing the flowers that I picked out.
Mar 14, 2018
You can see the ladies passion in every arrangement I've ever received. Awesome job every time
Mar 13, 2018
The flowers were BEAUTIFUL!! Your staff is amazing and so helpful! Looking forward to the design class I signed up for today! See you soon!
Mar 13, 2018
The flowers are absolutely beautiful and she loved them! It is wonderful to see the finished item before it heads out the door! Thanks. Gail White