Ziegfield Florist and Gifts, Maple Shade, NJ - Customer Flower Reviews
Like us on Facebook.
Total reviews: 13 reviews | Star Rating: 4.46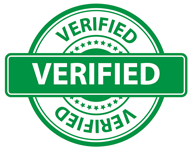 Real Customers, Real Reviews
All reviews are from verified Ziegfield Florist and Gifts customers. Our verified reviews require a validated order number, purchase date, and email address. They are collected, certified, and monitored by an independent, dedicated review company, See What You Send, Inc., that does not allow reviews to be filtered or deleted, unless requested directly by the customer.
Reviewed By:
George Wilkinson
May 28, 2018
Either not a great picture, or an underwhelming bouquet. I will order with you again because my family use you a lot and your work is normally great, but this is meh.
May 23, 2018
I called in a pinch on a Sunday 2 hours before they closed. I asked if it was too late to order and deliver flowers. The owner told me they don't deliver on Sundays but that he would deliver the flowers on his way home. He was so pleasant and accomodating and the flower arrangement was beautiful.
May 15, 2018
sure appreciated the special care given to get exactly what I wanted for my Mother on Mother's Day. She really liked them!
May 15, 2018
Ziegfield Florist is absolutely the one to go to if you want the most AMAZING flower arrangements. They are always very beautiful and well put together!! When I was on a budget, they worked with me as well and continued to put together a gorgeous arrangement.
Reviewed By:
Leslie Scaramazza
May 14, 2018
Unfortunately, I was very disappointed with the arrangement that you delivered to my mother for Mother's Day. The arrangement was very skimpy!! Few amount of flowers and the two large lily type flowers were not in good shape after only two days. Not worth $70. Looked for like a $25 product. I have to say, I was embarrassed that this was part of our gift. Based on this experience, will not use Ziegfeld again.
Reviewed By:
Patty Williams
May 12, 2018
If you want to send something beautiful to someone you love, then call Ziegfield Florist and leave the rest to the best!
Reviewed By:
Kristie Hannum
May 12, 2018
OMG! Its better then I expected. My Grandmother is going to LOVE it. Thank you Beth for making sure it was BEAUTIFUL and making MOTHER'S DAY a happy one for my Grandmother.
Reviewed By:
KERRIANNE CARUSO
May 11, 2018
LOVE this idea of sending a photo to the purchaser! Thank you so much!
Reviewed By:
Mary Lou Doyle
May 10, 2018
WOW!! I love this, seeing the flowers you are sending before the person receives them. They are so beautiful, I wish you had a picture of her face when she gets them, maybe in the future(LOL). Thank you so much to Ziegfield Florist for always doing a great job!